The Queer and Trans Research Lab (QTRL) at The Bonham Centre for Sexual Diversity Studies is pleased to invite applications for the Emerging Projects Fund. Central to the mission of the QTRL, this fund provides $10,000 – $20,000 annually to University of Toronto faculty members and graduate students whose scholarly and community work attends to to entrenched and emerging social and political problems affecting LQBTIQ2SA+ and BIPOC lives and communities in Toronto, Canada, and elsewhere around the world.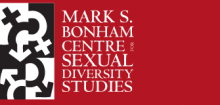 The QTRL welcomes projects focused on, but not limited to, LGBTIQ2SA+ public health, Two-Spirit needs and experiences, schools and education, art and public museums, queer transnational research and scholarship, multi-institutional and multi-locational social justice initiatives, archiving and documenting LGBTQ2S+ and QTBIPOC histories, and queer cultural production.
Completed applications should be submitted to qtrl.sds@utoronto.ca by Friday January 14th, 2022, for full consideration. More details for applying available HERE.
New LGBTQ2S Collaborative Research Project Grant Now Available at The Bonham Centre, University of Toronto