The Mark S. Bonham Centre for Sexual Diversity Studies at the University of Toronto invites applications for a one-year Postdoctoral Fellowship during the 2022-23 academic year, with the possibility of an additional one-year renewal, to support emerging scholars pursuing research in queer, trans, and LGBTIQ2SA+ studies.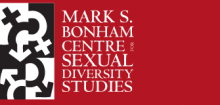 The Postdoctoral Fellow will offer one undergraduate class for the Sexual Diversity Studies undergraduate program and, at some point during the period of their award, deliver at least one public lecture that highlights their work. Fellows will have access to the vast faculty resources, archives, and library collections available at the University of Toronto, the Bonham Centre, and in the city. The successful candidate will receive a combined research and teaching stipend of $60,000, plus benefits, to support themselves for the duration of their fellowship. They will receive a dedicated office space at University College and be an active member of the Queer and Trans Research Lab (QTRL) 2022-23 cohort, a collaborative research project based at The Bonham Centre with a focus on methods in queer and trans studies across the disciplines as well as across creative and activist research practices.
All application materials must be submitted via email by January 10, 2022, to qtrl.sds@utoronto.ca. Fellowships will normally be awarded to candidates affiliated with a university other than the University of Toronto. This fellowship is open to non-Canadian citizens, permanent residents, and international scholars.
Our current Postdoctoral Fellow is Elif Sari.
More information can be found HERE.
Applications Now Open for Post-Doctoral Position at Bonham Centre, University of Toronto