The Mark S. Bonham Centre for Sexual Diversity Studies at the University of Toronto invites applications for a one-year Postdoctoral Fellowship during the 2024-25 academic year, with the possibility of an additional one-year renewal, to support emerging scholars pursuing research in queer, trans, and LGBTQ2+ studies. Our search committee welcomes proposals that span disciplinary boundaries. Applicants from all fields of the humanities and the social sciences are encouraged to apply.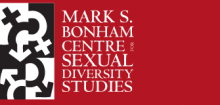 The successful candidate will receive a combined research and teaching stipend of $65,000, plus benefits, to support themselves for the duration of their fellowship. To get a sense of the wide disciplinary range and diversity of the Bonham Centre's community, the Queer and Trans Research Lab, and our academic offerings consult our website HERE.
Candidates must have completed their Ph.D. within a maximum of 3 years before the appointment date (August 19, 2024). To apply submit a cover letter, curriculum vitae, research project outline, writing sample, and three confidential letters of reference. All application materials should be submitted via email in a single PDF by January 5, 2024. Complete application details can be found HERE.
The Bonham Centre for Sexual Diversity Studies, one of the world's largest and most prominent 2SLGBTQ+ academic centres in the world, offers an undergraduate program, a collaborative graduate specialization (MA and PhD), hosts academic and community events, and supports research in queer, trans, and sexuality studies.
Applications Now Open: Postdoctoral Fellowship at The Mark S. Bonham Centre for Sexual Diversity Studies, University of Toronto