It was timely to hear about the continuing winning streak of Jeopardy show contestant Mattea Roach in today's Globe & Mail newspaper.
Mattea is a graduate of the University of Toronto and alumnus of the Mark S. Bonham Centre for Sexual Diversity Studies at the university. She is the fifth longest-reigning winner in the history of Jeopardy.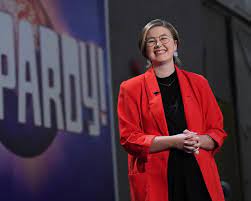 I wanted to personally invite all to attend a gala dinner celebrating the LGBTQ community and Pride at Massey College on Friday November 18th. We will be celebrating a number of accomplished LGBTQ individuals at this event, but I am particularly proud that Mattea Roach will be my honoured guest. Why not join us, meet Mattea, and personally congratulate her! The dinner supports the Junior Fellow programs at Massey College, and promises to be a fun and intimate evening.
Date: Friday November 18th
Massey College, 4 Devonshire Place
Time: Cocktails 5:30 pm
Dinner 6:30 pm
Dress: Business Formal
Registration required HERE.
Honouring Mattea Roach, Bonham Centre Alumnus at UofT and Jeopardy Champion (again)! Join Us November 18th.