Congratulations to Elif Sari on being awarded the Martha LA McCain Postdoctoral Fellowship for 2021-2022 at the Mark S. Bonham Centre for Sexual Diversity Studies. Elif received her PhD  in Socio-Cultural Anthropology at Cornell University. Her research interests include gender, sexuality, borders, immigration, asylum, and humanitarianism in the Middle East. She received her bachelor's degree in Political Sciences and International Relations at Boğaziçi University in Turkey, and her master's degree in Near Eastern Studies at New York University, where she studied the intersections on sexuality, law, and violence by examining LGBTQ asylum in Turkey.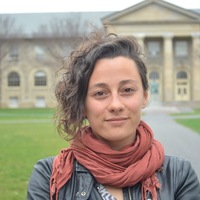 Her current research project explores the practices and processes of LGBTI asylum from the Middle East to the US and Canada via Turkey, as well as the lives and experiences of Middle Eastern queer refugees waiting in Turkey. She is Co-Editor of the Turkey Page at Jadaliyya e-zine. 
The Martha LA McCain Postdoctoral Fellowship supports junior scholars pursuing research in LGBTQ2+ and sexual diversity studies.  The honouree will join the faculty and students who make up the Bonham Centre's intellectual community and participate in the Centre's day-to-day activities. The Postdoctoral Fellow will offer one undergraduate class for the Sexual Diversity Studies program and, at some point during the period of their award, deliver at least one public lecture that highlights their work. Further information is available HERE.
Elif Sari Awarded 2021-2022 Postdoctoral Fellowship at the Mark S. Bonham Centre for Sexual Diversity Studies at the University of Toronto