I am proud to lead an initiative, as a Board Member of the children's charity We Are The Villagers (WATV), to get laptop computers into the homes of low-income families to ensure their kids keep up with their schooling. The first shipment of 50 computers will be going out on April 13th to WATV families in its 27 local communities in Northern Ontario that have applied for help online. Support from WATV will also pay the costs for internet services, and any registration or course material costs.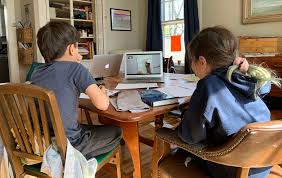 Awareness of the initiative has been helped by local newspapers. The Midland Mirror article reveals the stark reality of rural homes without laptops for their children. Research reveals that children of low income households disproportionately suffer in this environment, so WATV had to act fast with assistance.
Of course, home schooling does not always effectively replace the excellent work of teachers in our schools. As well, the absence of social interaction can affect the development of a child's social skills, their confidence levels, and their leadership skills. The kids are eager to get back to school and see their friends, but in the meantime it is important that they keep up with their education!
A special thank you to Cathy Mills, Executive Director of WATV, who has worked tirelessly behind the scenes to make this happen! More information on the program, including an online application form for assistance, can be found at the WATV website.
Computers Are On Their Way to Families in Need!