It is exciting that the Martha LA McCain Postdoctoral Research Fellowship at the Mark S. Bonham Centre for Sexual Diversity Studies has opened applications for its second year!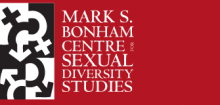 This one-year Postdoctoral Fellowship during the 2020-21 academic year will support a junior scholar pursuing research in LGBTQ2+ and sexual diversity studies. The search committee welcomes proposals that span disciplinary boundaries. Applicants from all fields of the humanities and the social sciences are encouraged to apply.
Candidates must have completed their Ph.D. within a maximum of 3 years before the appointment date (August 1, 2020). All application materials should be submitted via email by January 20, 2020 to The Bonham Centre for Sexual Diversity Studies (director.sds@utoronto.ca).
For more information and to apply, visit HERE.
To read about the current Martha LA McCain Research Fellow, see this posting.
Applications Now Open for the 2020/21 Post-Doctoral Research Fellowship at the Mark S Bonham Centre for Sexual Diversity Studies