Description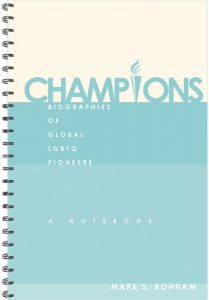 Champions: Biographies of Global LGBTQ Pioneers reveals a group of select Lesbian, Gay, Bisexual, Transgender, and Queer (LGBTQ) individuals who have made remarkable, and often brave, firsts in their professions.
Artists, writers, politicians, lawyers, sports figures, activists, and religious figures from around the world who have helped shape the history of the LGBTQ community are included. Too often hidden from view or simply unknown, their biographies make for compelling reading and research.
Presented in a useful notebook format, this book will be a valuable reference source of LGBTQ firsts.
Champions: Biographies of Global LGBT Pioneers