The Queer and Trans Research Lab (QTRL) at the Mark S. Bonham Centre for Sexual Diversity Studies, University of Toronto invites all qualified applicants to apply be our artist-in-residence for the 2023-24 school year. The QTRL residency will provide financial and other material support for artists working in any medium (photography, sculpture, visual art, media arts, theatre, poetry, playwriting, fiction, etc.), whose work centres on LGBTQ2S+ lives, communities, histories, and cultures. The residency will culminate in a funded exhibition, reading, screening, or performance of the resident's work-in-progress. The successful candidate will receive a stipend of $20,000.
Applications are due April 14, 2023.
More information and application process can be found HERE .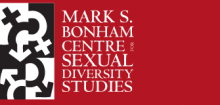 Call for Applications – 2023 Artist-in-Residence, QTRL at the Bonham Centre for Sexual Diversity Studies, University of Toronto