I am thrilled to let you know that, after much behind-the-scenes work, the world's first academic Queer & Transgender Research Lab (QTRL) is now established at the Mark S. Bonham Centre for Sexual Diversity Studies at the University of Toronto.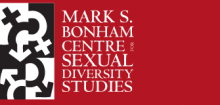 This world-leading initiative establishes a cross-campus, multi-faculty, and interdisciplinary humanities-, arts-, and social science-based research lab housed at The Mark S. Bonham Centre for Sexual Diversity Studies in the Faculty of Arts and Science. This exciting initiative will work to bridge methodological practices in LGBTQ2S+ and sexuality studies across the disciplines as well as across creative and scholarly research practices, gathering together researchers, students, artists, community leaders, and activists whose work attends to entrenched and emerging social and political problems affecting LQBTQ2S+ and BIPOC lives and communities.
Included with the Research Lab project will be additional Post-Doctoral positions, two new Faculty Fellowship positions, the existing Artist-in-Residence Fellowship, a Community Leadership Residency, multiple paid undergraduate and graduate student Research Assistanships (54 training opportunities in all), a cohort of Participating Collaborators, and new staff including a Program Coordinator, a Communications Officer, and a Digital Media Producer.
Applications are now being accepted for the Faculty Fellowships HERE – deadline is May 31st, 2021.
The establishment of the QTRL will enable the Centre to reach the next step in achieving its objective to become a global leader in LGBTQ2S+ research initiatives by: 1) Advancing new forms of interdisciplinary knowledge that connect academic research to both local and transnational problems and contexts;
2) Bridging interdisciplinary research and grassroots advocacy to advance research and seed long-term community impacts; 3) Establishing a safe space on each campus for queer and trans members of the university to conduct their work.

The timeliness of this initiative cannot be overstated. Even in our developed countries today the LGBTQ+ community and its rights, welfare and freedoms are being questioned and attacked. This academic initiative establishes a leading edge effort to address these challenges as only academia can.
Stay tuned for an official press release, interviews with academic Fellows, virtual roundtable symposiums, and more to come soon! You can discover more about the Mark S. Bonham Centre for Sexual Diversity Studies at the University of Toronto HERE.
World's First Queer & Transgender Research Lab Established at the Bonham Centre, University of Toronto – A Significant Academic Initiative