The Bonham Centre for Sexual Diversity Studies at the University of Toronto invites all qualified applicants to apply be its artist-in-residence for the 2021-22 school year. The Bonham Centre residency will provide financial and other material support for artists working in any medium (photography, sculpture, visual art, media arts, theatre, poetry, playwriting, fiction, etc.), whose work centres on LGBTQ2S+ lives, communities, histories, and cultures and expressly concentrates on:
1) the role art plays in expanding how we think about sexual diversity;
2) relations between art, activism, and social justice. The residency will culminate in a funded exhibition, reading, or performance of the resident's work-in-progress.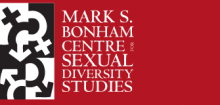 The successful applicant is expected to be in residence in the Greater Toronto Area during the period of their award (September 2021 – June 2022) and will join the faculty and students who make up our intellectual community and participate in the Centre's activities. Activities may include guest lectures, a public artist talk, office hours with our students, and a general presence at the Centre. They will be given office space and access to the vast faculty resources, manuscript archives, and library collections available at the University of Toronto and the Bonham Centre. The successful candidate will receive a stipend of $20,000. To get a sense of the wide disciplinary range and diversity of the Bonham Centre's community and academic offerings consult our website.
This is a very exciting opportunity for an exceptional artist. Deadline for applications is April 15th, 2021. To read more and make an application, see HERE.
Applications Now Open for Artist-in-Residence at Bonham Centre, University of Toronto