As part of the newly created Queer and Transgender Research Lab (QTRL) at the Mark S. Bonham Centre for Sexual Diversity Studies at the University of Toronto, applications for two Community Leadership Residencies are now being accepted.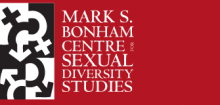 In its inaugural year, the program will provide two, year-long residencies to community leaders and activists working on social and political problems affecting LGBTQ2S+ and BIPOC lives and communities. The residents will work on a project of their choice that addresses social inequality in LGBTQ2S+ QTBIPOC communities.
The successful candidate will receive a stipend of $15,000. In addition, the Bonham Centre will provide up to $5,000 in support for project resources, subject to university policies and guidelines. The residency will take place from September 2021 – May 2022. . During the period of their award, they will join the faculty and students who make up the QTRL and participate in the Bonham Centre's activities. They will be given office space and access to the faculty resources, archives, and library collections available at the University of Toronto and the Bonham Centre.
Applications are due July 1, 2021. Complete details on guidelines and how to apply can be found HERE.
Applications Now Open – LGBTQ Community Leadership Residencies at the Bonham Centre, University of Toronto