It is now official – a new Post Doctoral research position has been created at the Mark S. Bonham Centre for Sexual Diversity Studies at the University of Toronto. This is huge news for the SDS Centre as it solidifies the Centre's position as the largest and most important LGBTQ degree-granting program in the world. With this addition, the Bonham Centre offers an undergraduate program, a Masters program, a PhD program, and now a Post-Doc position.
Of course, this would not have happened without the generosity and commitment of my good friend Martha McCain who has endowed the Post Doc position. Martha previously endowed the Martha LA McCain Global Research Fund at the Bonham Centre in 2016, a program which provides funding for global research on LGBTQ issues at the Centre. Thank you Martha!
The official press release and call for applications can be found HERE.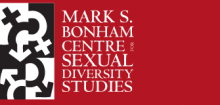 New Post Doctoral Research Position Created at the Bonham Centre at University of Toronto!