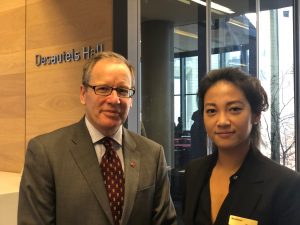 I was thrilled to meet with Mimi Shi, the 2019 recipient of the Bonham Scholarship at the Rotman School of Management, University Toronto at their annual awards breakfast yesterday.  Mimi  hails from Vancouver, having been born in Taiwan and emigrating to the city at the age of three.  A graduate of the University of Southern California B.Sc. program in Business Administration, Mimi worked at CIBC Wood Gundy as an Investment Advisor after spending two years working at China Universal in Shanghai as a business development officer at this award-winning mutual fund company.
Mimi is an active marathon runner, and while in Shanghai she founded LQ Fitness and the LGBT Fitness Group and grew it to over 100 members!  She has been active in Big Sisters of BC Lower Mainland and with Toastmasters International.
The Bonham Scholarship is a two year, fully funded scholarship for the MBA program at Rotman.  There are now 19 Bonham Scholars!  Welcome to the group Mimi!
Welcome to the Newest Bonham Scholar at the Rotman School of Management, University of Toronto