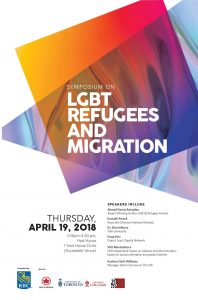 Please consider attending the 2018 Bonham Centre Symposium on LGBTQ Refugees and Migration.  The symposium, held in conjunction with the Bonham Centre Awards Gala, is being held on Thursday April 19th from 1:00-4:00pm at Hart House, University of Toronto.
Speakers include:
Ahmad Danny Ramadan – Award Winning Author, Journalist and LGBTQ Refugee Activist
Kamahli Powell – Executive Director, Rainbow Railroad
Dr. David Murray – Professor, York University
Doug Kerr – Project Lead, Dignity Network
Vitit Muntarbhorn – UN Independent Expert on violence and discrimination based on sexual orientation and gender identity
Karlene Clark-Williams – Manager, Direct Services at The 519
This is a free event. With light refreshments and snacks.  No RSVP is required.  The venue is accessible to all.
Visit the Facebook's event page HERE.
Bonham Centre Symposium on LGBTQ Refugees and Migration – April 19th, 2018