The following books authored by Mark S. Bonham are now available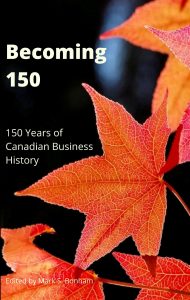 Becoming 150: 150 Years of Canadian Business History, University of Toronto Press, 2018.  260 pages.  C$29.95
Presents selected papers from the Canadian Business History Association Annual Conference 2017.  The book presents informative insight into the development of Canada's economy and business sectors since Confederation in 1867.  This book is a must read for business people, students and entrepreneurs, and is composed of 18 essays written by business people, academics and recent graduate students outlining the history of Canadian businesses in 8 different topics. Subjects covered include the financial sector, women in Canadian business history, industrial and manufacturing, rural business history, and more. Paperback. 260 pages, including Index.
Free Shipping on All Orders.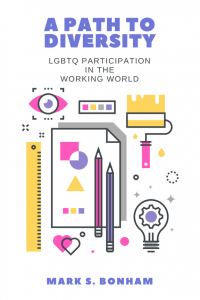 A Path to Diversity:  LGBTQ Participation in the Working World, University of Toronto Press, 2017.  Softcover, 244 pages.  C$19.95
Investigates the current state of employment markets around the world for the lesbian, gay, bisexual, transgender, queer, intersex, two-spirit, or gender fluid (LGBTQ) community. Included is a discussion of equality in the workplace and why it is important to both the employer and employee, the wage gap, which professions are attractive to LGBTQ individuals and why, and the role of unions and government legislation. A survey of seventy five professions provides a status report for each, and seventy two biographies of influential LGBTQ professionals from around the world is included.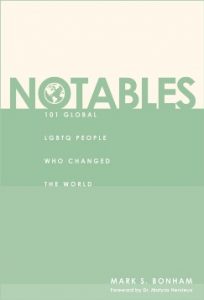 Notables: 101 Global LGBTQ People Who Changed the World, University of Toronto Press, 2015.  Softcover.  212 pages.  C$19.95
Reveals a group of select Lesbian, Gay, Bisexual, Transgender, and Queer (LGBTQ) individuals whose personal accomplishments in their profession changed the world in some relevant way.
Included are founders of various social movements, innovators in sports, leaders in business and politics, explorers and discoverers, instigators in religious movements, thinkers in philosophy, infamous villains, creators of new academic fields of study, and risk takers in the arts, culture, and entertainment worlds.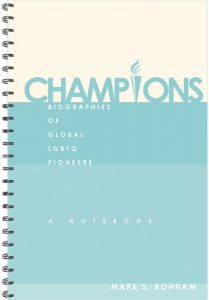 Champions: Biographies of LGBTQ Pioneers, University of Toronto Press, 2014.  C$14.95
Reveals a group of select Lesbian, Gay, Bisexual, Transgender, and Queer (LGBTQ) individuals who have made remarkable, and often brave, firsts in their professions.
Artists, writers, politicians, lawyers, sports figures, activists, and religious figures from around the world who have helped shape the history of the LGBTQ community are included. Too often hidden from view or simply unknown, their biographies make for compelling reading and research.
Presented in a useful notebook format, this book will be a valuable reference source of LGBTQ firsts.